Barong Tagalog Dubai UAE
Order Online by Visiting our Dubai Store >> Here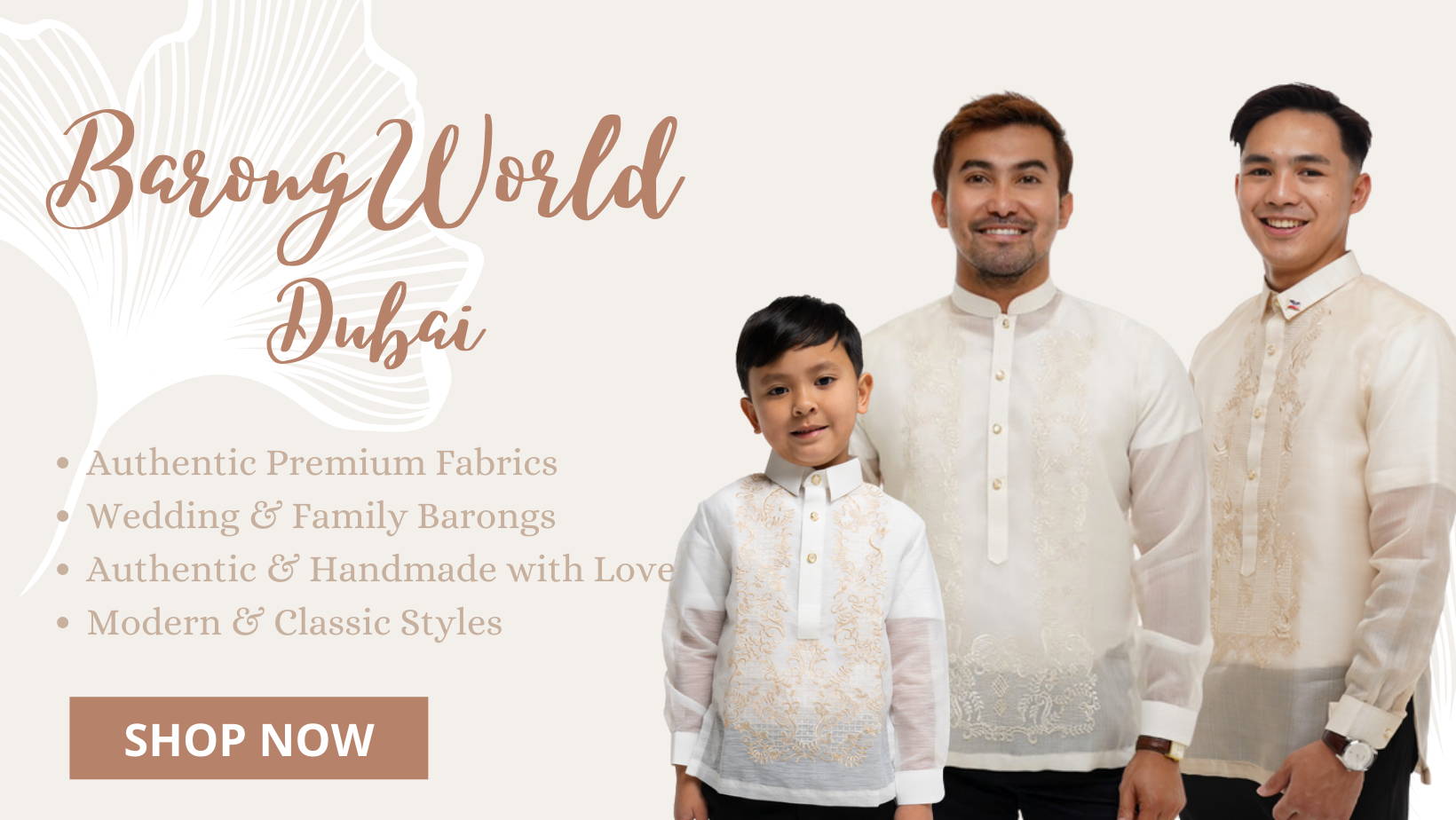 Dubai, UAE, is the rising country when it comes to fashion, textile industry, and clothing. Fashion designers and teams from around the world are making their way to this growing country. Included here is our team with our world-class quality of Barong Tagalog. Our masterpieces are perfect for any event, especially a Filipino wedding that might be celebrated in Dubai, UAE.
Most of the time, our customers are Filipinos who have immigrated to the country. We also supply fashion shows that we see as the perfect opportunity to showcase our world-class masterpieces. With these, we can show the world how excellent and intricate our products are.
Now, let's take a look at the reasons why Barong Tagalog Dubai UAE is a must-buy!
Premium Textile Quality
Barong Tagalog is known worldwide for its premium textile quality made from silk and abaca. These sources are abundant in the country, and with further developments, we are able to promote both sustainability and livelihood. Our masterpieces are also made of these resources as we are looking forward to promoting how culture-rich and creative the Filipinos are.
Intricate Patterns and Designs
Aside from the premium textile quality, our masterpieces have intricate patterns and designs that have inspirations behind them. These characteristics make our products distinct from others. Our patterns and designs make our products stand out among other competitors.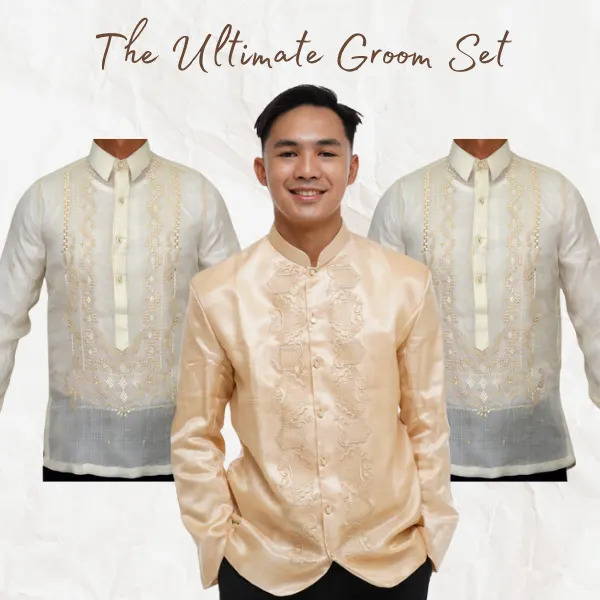 Groom's Barong Tagalog Set
Modern Barong Coat for the groom and classic jusi barong tagalog for the groomsmen. Perfect match for your wedding gown!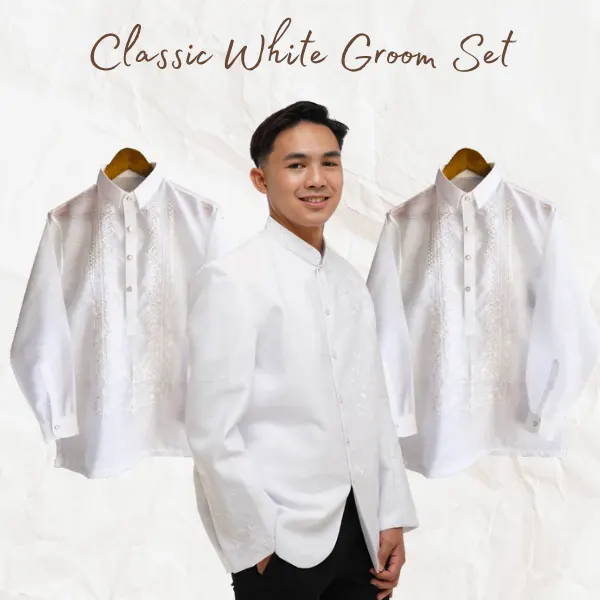 Various Colors
Our Barong Tagalog is made with premium textile quality that can be processed and tailored with different colors, primarily the classic white, gold, black, and ombre. These various colors help to expand the plans of our customers, especially the fact that weddings and other events can have different color schemes. We also apply this to our Filipiniana dresses and other pieces that can be seen on our website.
Sizes
Our Barong Tagalog collection in Dubai, UAE, comes in different sizes. We have small to large sizes to cater for every type of customer we have. We also make it a reserve plan since our customers have different sizes and body proportions.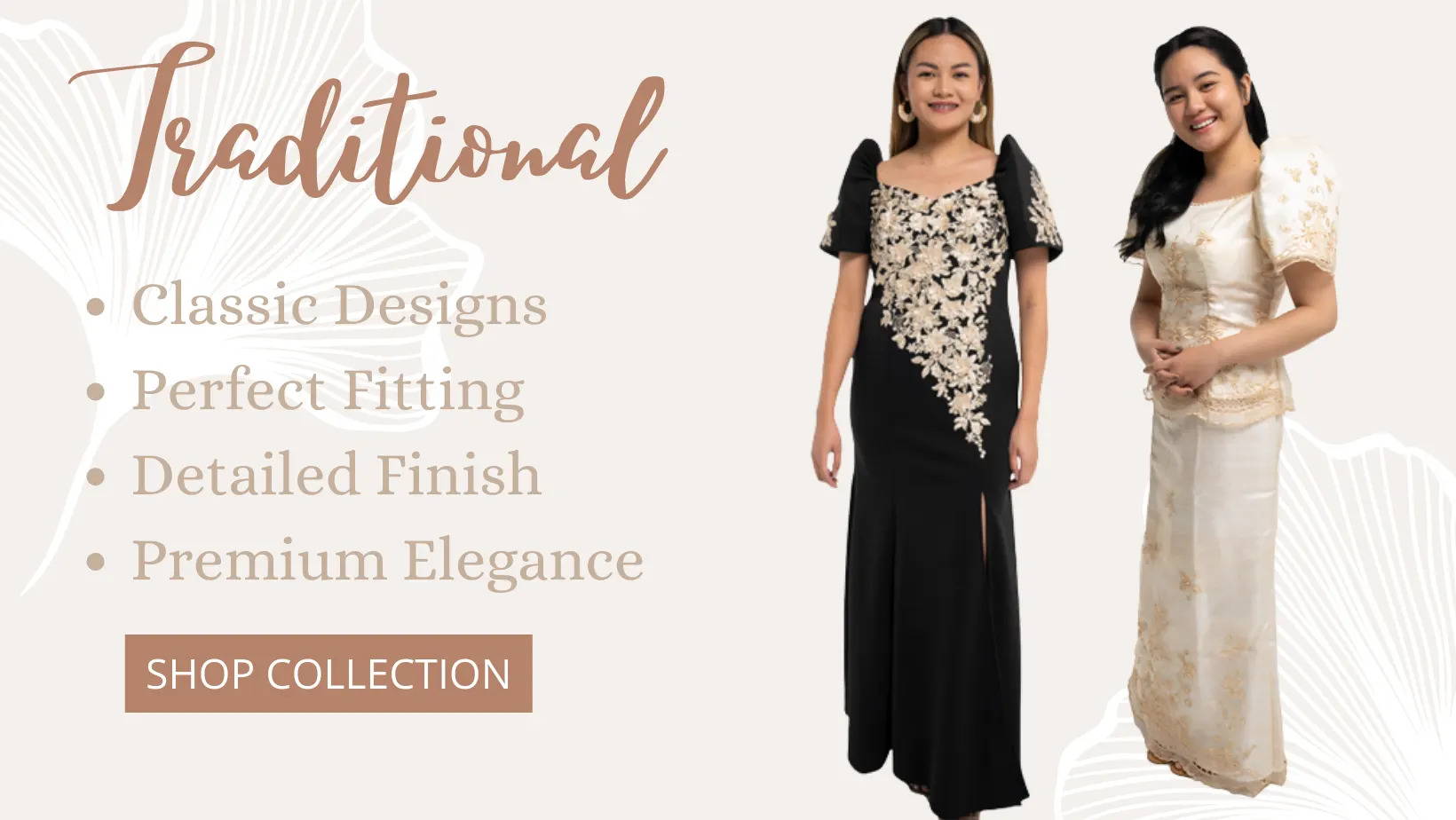 Compliments with anyone
Barong Tagalog for men and Filipiniana dresses for the women, all of our Dubai UAE collections are complimentary with anyone. The color and designs are suitable for any body type and skin type. But still, we put the final decision to our customers as they are the ones to wear our masterpieces. We provide them with the best assistance throughout their shopping journey on our website.
Efficient Online Shopping and Delivery
Our website is searchable online, and we provide efficient online shopping and delivery. Our customers can add to cart as many as they want and check it out for us to deliver their parcel right on time. We ensure that the delivery is quick as we know how valuable time is, and we see to it that the delivery will be done before the event they have, especially a wedding.
Overall, Barong Tagalog Dubai UAE is continuously making its name in the fashion industry with our world-class barong pieces. You may be in Dubai and other parts of the world; we see to it that we can deliver right at your doorsteps the best pieces to wear for special occasions like a wedding.